Venezuelan Restaurants in South Florida - Areperias y Tascas en Weston, Doral y Miami, FL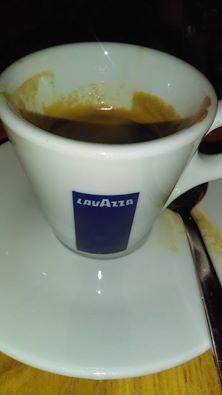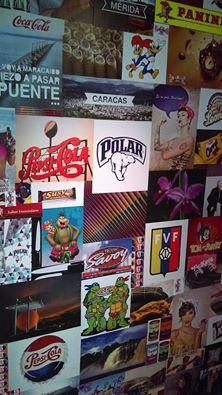 Looking for a good Arepa in South Florida? Look no further than Doggis and yes its pronounced like DOG-E's. I lived in Venezuela in 1998 for one year and almost lived on Arepas. I visited the restaurant with a Venezolana from Caracas who lives in the Aventura area now. My friend really enjoyed the Doggi's wall which is full of posters related to culture from the country. Pics of Taco chocolate drink, cerveza Polar and even North American cultural icons which have permeated their way into Venezuelan culture such as the Flintstones and Coca-Cola. Ronit had a hard time ordering. She told the waitress that she wanted everything on the menu. We started with Arepitas con nata y queso which is Arepa in bite size triangles with white cheese. We then ordered Pepito de Churrasco which is a Churrasco sandwich served Ven-Style (with shoestring potato sticks. We also ordered Patacon de Churrasco which is the same yet has avocado and instead of being a sandwich its served over tostones or "patacon" as they are known in Caracas. After dinner we were pleased to sober up from our Polar beer drinking excursion with a nice cup of LavAzza Italian espresso which is very popular in Little Venice of America.
In the vibrant culinary landscape of the Fort Lauderdale and Miami area, Venezuelan restaurants stand out as a delightful representation of the rich and diverse flavors from the South American nation. These establishments not only bring the taste of Venezuela to Florida but also create a sense of home for the Venezuelan diaspora and introduce locals to the country's unique culinary traditions.
One such gem is "Carabobo Cocina & Grill" in the heart of Fort Lauderdale. As you enter, the aroma of arepas and empanadas fills the air, instantly transporting you to the streets of Caracas. The cozy atmosphere is adorned with Venezuelan art and colors, creating a warm and inviting space. The menu boasts a variety of traditional dishes, from Pabellón Criollo, a national favorite featuring shredded beef, black beans, rice, and fried plantains, to Cachapas, thick corn pancakes usually stuffed with cheese and ham. The restaurant also offers a selection of refreshing beverages, including traditional chicha and papelón con limón.
Heading south to Miami, "Venezuelan Delights" captures the essence of Venezuelan street food. Located in the vibrant neighborhood of Wynwood, this food truck turned brick-and-mortar establishment has become a hotspot for those seeking authentic arepas. The chef, hailing from Caracas, skillfully crafts these savory corn pockets, offering a variety of fillings such as Reina Pepiada (chicken and avocado salad) and Pernil (slow-cooked pork). The casual setting, adorned with Venezuelan flags, adds a touch of nostalgia for those missing the bustling streets of their homeland.
For those in search of a more upscale dining experience, "Sabor Venezolano" in Miami's Coral Gables is a culinary haven. The restaurant combines traditional Venezuelan flavors with a modern twist, presenting beautifully plated dishes that are as pleasing to the eye as they are to the palate. Whether it's the delicate flavors of a Hallaca or the indulgence of a tres leches dessert, Sabor Venezolano aims to elevate Venezuelan cuisine to new heights.
The Venezuelan restaurants in Fort Lauderdale and Miami serve as more than just places to satisfy culinary cravings; they are cultural hubs that bridge the gap between nostalgia and the present, providing a taste of Venezuela's diverse and flavorful heritage. From casual food trucks to elegant dining establishments, these venues contribute to the region's culinary diversity, inviting locals and visitors alike to embark on a gastronomic journey through the heart of Venezuela.
Name: Doggi's Arepa Bar
Location: 7281 Biscayne Blvd. Miami, FL 33138
Tel. 786-558-9538
Hours: 10am - 11pm
Cover Charge: n/a
Website: www.eatdoggis.com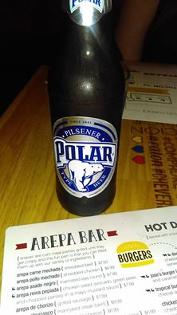 Name: Arepas Magnet Plus
Location: 16668 Saddle Club Rd, Weston, FL 33326
Tel. 954-385-8085
Hours:
Cover Charge: n/a
Website: www.arepasmagnetplus.com
Name: El Arepazo Doral
Location: 10191 NW 58 ST Doral, FL
Tel. 786-594-0726
Hours: 7:30am till 1am
Cover Charge:
Website: www.elarepazomiami.com
Name: Panna Cafe Venezolanos
Location: Weston, Doral, Marlins Park, Davie, FL
Tel. 855-MI-PANNA
Hours:
Cover Charge: n/a
Website: www.pannacafe.com
Name: La Uchireña
Location: 7880 NW 52nd St, Doral, FL 33166
Tel. 305-599-9399
Hours: 9am till 3pm (almuerzo)
Cover Charge: n/a
Website: n/a
Name: La Margarita Wonderfood
Location: 9851 NW 58th St. Doral, FL 33178
Tel. 305-392-0375
Hours: 8:30am hasta 7:00pm
Cover Charge:
Website: www.lamargaritaonline.com
Name: Cafe Canala
Location: 15960 W Sr 84, Sunrise, FL 33326
Tel. (954) 358-6950
Hours:
Cover Charge: n/a
Website: www.cafe-canela.com
Name: El Arepazo Dos
Location: 4446 Weston Rd, Davie, FL 33331
Tel. 954-617-6422
Hours: ?
Cover Charge: n/a
Website: www.elarepazo2.com
Name: La Coriana Maracucho Cuisine
Location: 3655 NW 107th Ave Doral, FL 33178
Tel. 305-592-6191
Hours:
Cover Charge:
Website: www.lacoriana.com
Name: El Sabor Venezolano
Location: 10722 NW 74th St, Doral, FL 33178
Tel. 305-716-0375
Hours: 9am hasta 11pm
Cover Charge: n/a
Website: www.elsaborvenezolanoevents.com
Name: Don Pan Venezuelan y Int'l Bakery
Location: varios
Tel. 305-644-7227
Hours:
Cover Charge:
Website: www.donpan.com
Restaurantes Venezolanos en todo partes de Miami y el sur de la Florida incluye Doral, Weston, Miramar y Miami
South Florida Latin Music Events and Venues by Location:
South Florida Latin Music Events and Venues by Genre:
Donde podemos bailar Martes? Just 1 More Tavern - Fort Lauderdale
Latin South Florida
Magazine is published by
Luxury Chamber Media Group
. Our other publications include:
SOUTH FLORIDA magazine
,
SOUTHWEST FLORIDA magazine
,
Mondo Italiano Magazine
,
Mediterranean Magazine
and
Republican Magazine
. Our Chamber of Commerce entity is LUXURY CHAMBER of COMMERCE which is a for-profit networking group uniting local non-profits with luxury brands, donors, socialites and celebrities.
LatinSouthFlorida.com & Latin-Music.org