Andean Music in South Florida - La Musica Andina
7th Annual Bolivian Carnival Miami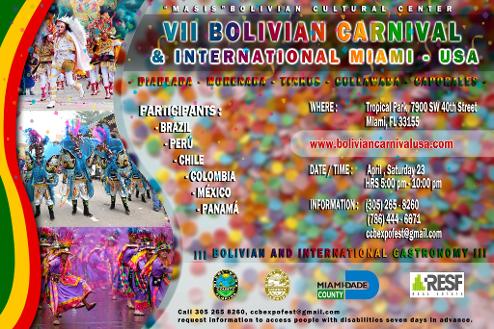 "VII Bolivian Carnival & International Miami" started as an initiative of MASIS Bolivian Cultural Center to promote the cultural exchange between Latin America and Miami. The event recreates a Miami version of the traditional "Carnaval de Oruro" of Bolivia alongside other Latin American countries such as Colombia, Peru, Nicaragua, Panama, Uruguay, Costa Rica, and Mexico to name a few.
Live music, Multicultural food vendors, drinks and much more in an afternoon full of good vibes and entertainment. Come and try something different and experience one of the best multicultural celebrations! And who knows maybe the next one Carnival you'll attend will be the "Carnaval de Oruro" in Bolivia, don't miss out!
"VII Carnaval Boliviano & Miami Internacional" nació como una iniciativa del Centro Cultural Boliviano MASIS para promover el intercambio cultural entre América Latina y Miami.El evento recrea una versión miamense del tradicional "Carnaval de Oruro" de Bolivia junto a otros países latinoamericanos como Colombia, Perú, Nicaragua, Panamá, Uruguay, Costa Rica y México, por nombrar algunos.
Música en vivo, puestos multiculturales de comida, tragos y mucho más en una tarde llena de buena vibra y entretenimiento. ¡Ven a probar algo diferente y vive una de las mejores celebraciones multiculturales!Y quién sabe, tal vez el próximo Carnaval al que asistirás sea el "Carnaval de Oruro" en Bolivia, ¡No te lo pierdas!
South Florida Latin Music Events and Venues by Location:
South Florida Latin Music Events and Venues by Genre:
Donde podemos bailar post-Covid?
clubnocturno.net
Latin South Florida
Magazine is published by
Luxury Chamber Media Group
. Our other publications include:
SOUTH FLORIDA magazine
,
SOUTHWEST FLORIDA magazine
,
Mondo Italiano Magazine
,
Mediterranean Magazine
and
Republican Magazine
. Our Chamber of Commerce entity is LUXURY CHAMBER of COMMERCE which is a for-profit networking group uniting local non-profits with luxury brands, donors, socialites and celebrities.
LatinSouthFlorida.com & Latin-Music.org