Vista Mar Marina of Panama to Attend Exclusive Event for Palm Beach International Boat Show
PALM BEACH, FLORIDA –
Vista Mar Marina of Panama will one of the sponsors for the 2018 Worth Avenue Yacht Hop. This is the marina's first time sponsoring the exclusive yachting event, and will be attending the Hop to showcase Vista Mar Marina in the Palm Beach International Boat Show.

The Worth Avenue Yacht Hop is described as "an evening of pure luxury" by the Worth Avenue website. The private event will include some of the top guests attending this year's Palm Beach International Boat Show, such as Rolls Royce partners, jewelry collectors, and other exclusive yachting and charter entities. Worth Avenue Yachts hosts the event in order to create networking opportunities in a luxurious and entertaining setting.

The Yacht Hop will be held on the evening of March 22nd and is a part of the Palm Beach International Boat Show, which runs from Wednesday March 21st to Sunday March 25th. The show features more than $1 billion worth of boats, making it one of the top five boat shows in the United States. This year's show will mark the 33rd year of the event, and is the largest Boat Show of Palm Beach to date.

Vista Mar Marina will be represented at the Palm Beach International Boat Show and Yacht Hop event by marina leadership from San Carlos, Panamá, as well as by Bruce Blomgren, CEO of Brandy Marine International, the marina management company contracted by Vista Mar in June of 2017. The marina spokespeople are eager to showcase the luxuries of the Panamanian marina. "The Palm Beach show will be a huge event for us," Blomgren states. "We are happy to be able to showcase what Vista Mar Marina has to offer."

Vista Mar Marina was also represented at the recent Miami International Boat Show and Miami Yacht Show in February. The marina is 42 nautical miles southwest of the Panama Canal and has 206 berths with capabilities to accommodate over 1,000 feet for megayachts. Safe harborage, 5-star service and luxury activities are some of the attributes that the marina boasts.
Panamanian Businessman Gilbert Squires to Speak at Florida Panama Fest - Sea Watch Restaurant 2017
Gilbert K. Squires was born and raised in Panama and has been selected to speak at Luxury Chamber's Florida Panama Fest 2017. Gilbert will be speaking about Panama and International Business, the unique relationship that Panama has with the U.S. Some of the history of the country and even share some knowledge about art and antiquities which will be on display at the event. Mr. Squires is in a unique position to be overly qualified for the event. His accomplishments are too numerous to list in one magazine article. For one he was President of Conoco Oil Mexico! He is also a Judicial Magistrate. He once worked in the Panama Canal Zone and then as an offshore drilling engineer. He speaks multiple languages fluently and he is one of the top rated litigation attorney's in the world. Mr. Squires is now President of Squires International Law, PLLC based in Miami, FL. The Florida Panama Fest will feature International Business Networking, a speech by Mr. Squires, complimentary wine, door prizes, delicious seafood appetizers, quality business networking and most importantly it benefits Glam-A-THON 501(c)3 which helps to fight breast cancer. The event will be held on Monday August 21st at Sea Watch Restaurant in Ft. Lauderdale, Florida. Cost to attend is $50 and guests are encouraged to wear Panama Hats and White Linen Summertime clothing. For more information about the event and to secure a ticket please visit: panamafest.us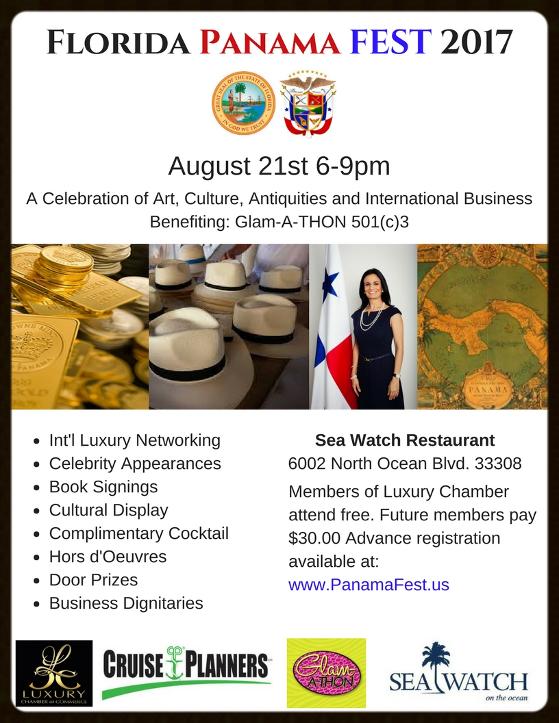 Recetas de Panama / Recipes from Panama
South Florida Sister Cities with Panama:
Fort Lauderdale & Ciudad de Panama